Alaska Economic Trends Magazine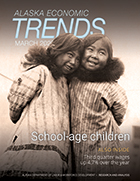 Trends in the school-age population, page 4
Total wages up 4.7% in third quarter, page 11
Alaska Economic Trends is a monthly magazine that covers a range of economic issues. To subscribe to the free electronic version, click here, email dolsharedragroup@alaska.gov, or call (907) 465-4500. A paid print subscription is also available through Assets, Inc.


SEARCH TRENDS: Trends is searchable from 1978 through now.

The search can include any combination of the title or subtitle, date or date range, author, or full text.
The State of Alaska would like to make more data available and make it easier to use. Please take this survey to help us in that effort.